Bauerfeind Community,
We hope that you are safe and well during this difficult time. We're doing our best both in Germany and here in the US to get our products to patients and customers who need to reduce pain or swelling and maintain their physical fitness. We know many need added relief as they wait to reschedule orthopedic surgery so our healthcare system can prioritize those directly impacted by COVID-19.
---
Here is what's happening at Bauerfeind
For the past several weeks, Bauerfeind has worked to respond in a way that protects our employees and community while continuing to provide high-quality products to the people who need them. When the first cases of COVID-19 began to emerge in our area, we moved all of our office employees to working in their homes, reducing their risk of encountering the virus while continuing to serve the needs of our customers.
Our production facility in Germany as well as our warehouses in Atlanta and Phoenix have continued operations with advanced precautions including personal protective equipment (PPE), symptom screening and social distancing throughout their facilities. These supply chain workers are dedicated to safely producing the products our customers need.
As a company we've been inspired by the way people all over the world are working together to ease the effects of this crisis. We've challenged ourselves to identify ways we can help out as well. Here are a few small things we're doing:
---
Reusable Antibacterial Face Masks
To reduce the transmission of the virus, the newest recommendation by the CDC is for everyone to use cloth face coverings when going out in public. For those not inclined to DIY sewing, finding suitable masks can be a challenge, as the supply chain has been overwhelmed. Through our partnerships with other medical suppliers, Bauerfeind has secured a small inventory of washable, reusable face masks. We've provided some for our employees and are now making them available to our customers while supplies last.
As always, medical-grade N95 and disposable surgical masks should be reserved for healthcare workers, but everyone can do their part by wearing a cloth mask if they have to leave their homes.
---
Bauerfeind Product Donations to Healthcare Workers and First Responders
We want to say thank you to the healthcare workers and first responders on the front lines of this pandemic. As a small token of our appreciation and to help their efforts, we've given a donation of back braces, knee supports and medical-grade compression socks to members of the Georgia National Guard who are activated in the COVID-19 response. These products provide joint stability and stimulate energizing blood flow to help avoid strain and injury. We're continuing to work with medical suppliers and healthcare systems to provide additional donations.
---
What we appreciate more, after weeks of social distancing
Lastly, the Bauerfeind USA team has had a lot of discussions around our growing appreciation for things big and small that we may have taken for granted before COVID-19. We each submitted a list of these things, and created this word cloud we'd like to share with you.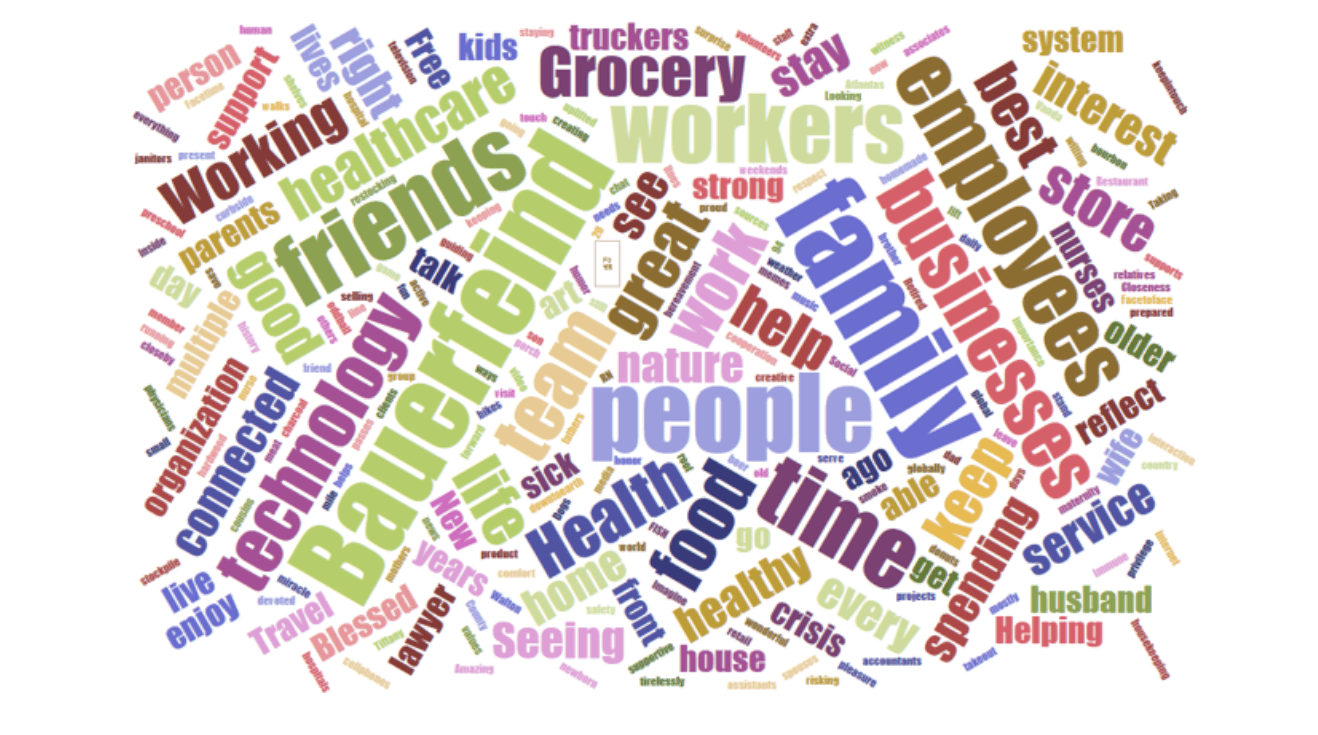 As you can see, at the center of it all is the people we care about and the health of our community. Please feel free to share with us how you're still making your health a priority during this time, by reaching out to us on social media @bauerfeindusa or using #Beactiveathome
Stay safe out there.
– Team Bauerfeind USA