As a runner you want to give your best and achieve your goals. You're always focused on improving your fastest times, so a history of knee pain and the diagnosis of patellofemoral pain syndrome (PFPS), or Runner's Knee, can feel like a setback. Fortunately, it does not have to last. Try Bauerfeind's Sports Knee Support for stability, relief and protection from recurring excessive strain to get you back to your training routine.
Sports Knee Support
The best knee support for running - stabilizes your knee, relieves pain and is extra breathable for optimal athletic performance.
Bauerfeind's AirKnit technology used in the Sports Knee Support provides medical-grade compression to boost circulation and reduce damaging muscle vibrations. The anatomically contoured Omega pad surrounding the knee cap captures and redistributes pressure to protect against overloading the tendons and knee cap. When the knee moves, the pad and the knit massage the connective tissue and the muscles. Two pressure points and lateral wings deliver targeted stimuli. This stimulation boosts the metabolism and triggers positive sensorimotor feedback, activating stabilizing muscles and improving joint coordination. Together, these technologies deliver unparalleled efficacy and comfort to get you back to running!
How to Treat Runner's Knee
It's time to take a break from running, even if you're training for your next PR or marathon. Usually, Runner's Knee gets better on its own with the proper treatment and time.
Runner's Knee is a sign of excessive strain and depends on different factors, including intensity of training, an individual's anatomy, and the terrain of your walking or running routes. To speed up recovery, locate the source of the pain and ice the surrounding tissue several times per day. To protect the tissue from excessive cold, wrap a towel around the ice. If possible, elevate your knee and reduce strain as much as you can. You may also take over-the-counter anti-inflammatory medication (NSAIDs) if needed for pain and swelling.
To further boost the healing process, you should wear a knee brace or support that provides medical-grade compression. A good compression support can relieve your knee pain, which is particularly important at the beginning of your recovery when the pain is most severe. Made with comfortable, breathable materials, Bauerfeind's knee supports allow you to stay active during your day while alleviating knee pain.
If you later return to your training, the support not only continues to provide you with additional stability, but also helps prevent recurring excessive strain and injuries.
Consult a physician if your knee pain does not subside within a few days or your knee gets red and/or feels warm to the touch.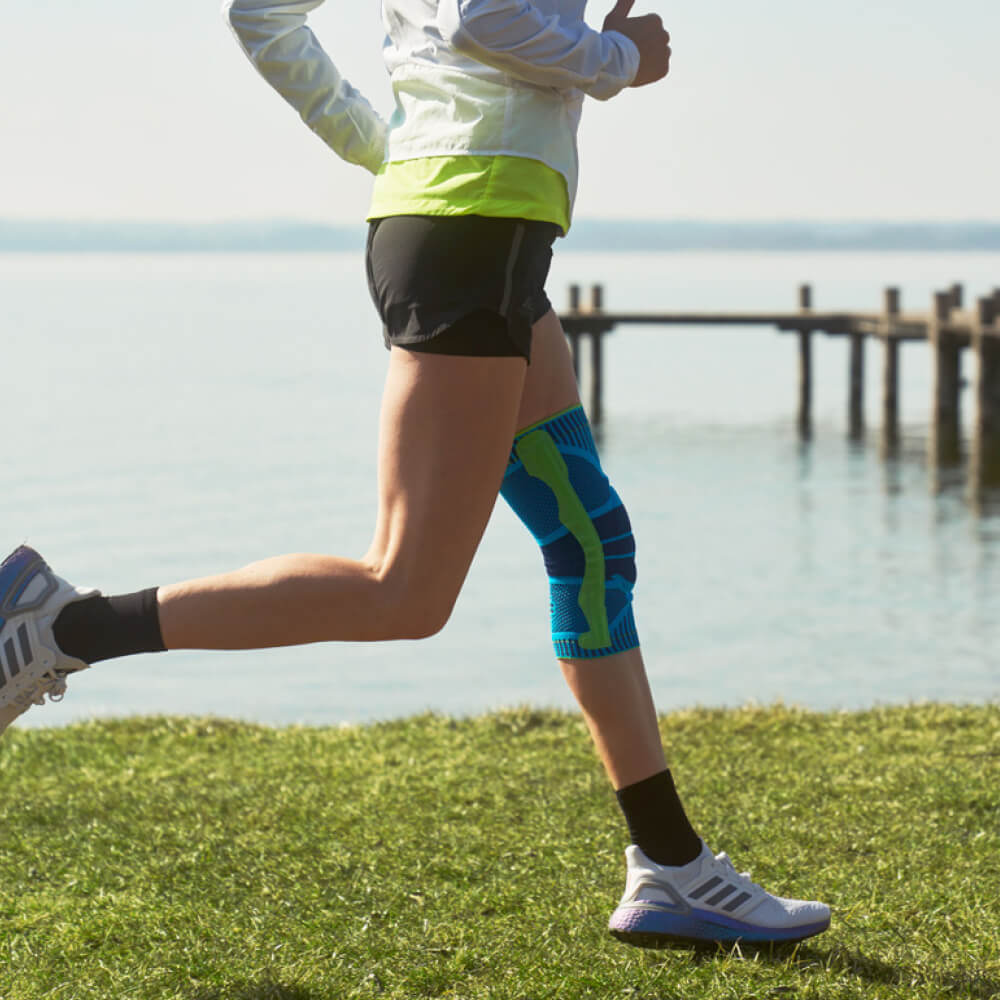 Return to Training with Support
You can slowly return to training again once your pain has subsided, when you can bend and straighten your knee, and when your knee feels as strong as your injured knee. However, do not try to continue where you left off. Ideally, start with moderate jogging, then slowly and gradually increase the intensity. In order to prevent recurring irritation, we recommend wearing a Sports Knee Support. Ease back into your routine by doing the following:
Adjust your training plan.
Replace running with activities that are gentle on your joints such as regularly cycling or swimming.
Wear a Sports Knee Support to stabilize and relieve your knee.
Warm up before your workout.
Foam roll of your quadriceps muscles.
Strengthen/Stretch your thigh muscles.
Replace old running shoes.
Try to run on softer surfaces and avoid asphalt or concrete.

How to prevent Runner's Knee?
Gradually increase your exercise level by strengthening the muscles around your knee to ease pressure and stabilize the knee joint.
Wear a knee support for better proprioception and to stabilize and massage your knee joint while being active.
Warm up and stretch before running to help prevent injury.
Manage your weight to keep the stress on your joints low.
Wear good running shoes that are suitable for you and the terrain you are training on.
---
This information is provided for general information purposes and should not be relied on as a substitute for medical advice, evaluation or care from a qualified and licensed health care provider. The information contained here is not to be considered a plan of care of physical therapy.
---