Inner knee pain is not only annoying, but may also mean that you have to take a break from training for several months. In order to relieve the irritated pes anserinus, a knee brace with a functional pad can help. Learn more about why our Sports Knee Support is the best brace for pes anserine bursitis.
Pes anserine bursitis can stop you from training for a long time. Fortunately, a knee brace can alleviate pain and allow you to return to training sooner rather than later.
Sports Knee Support
The Best Knee Brace for Pes Anserine Bursitis
The AirKnit technology of the Sports Knee Support provides medical-standard compression to boost circulation and reduce damaging muscle vibrations. The anatomically contoured Omega pad ensures that the knee joint remains securely in position and is guided in its natural path, thus providing relief in the area of the irritated inner knee. When the knee moves, the pad and the knit massage the connective tissue and the muscles. Two pressure points and lateral wings deliver targeted stimuli. This stimulation boosts the metabolism and triggers positive sensorimotor feedback. As a result, the stabilizing muscles are activated more quickly, thus improving joint coordination. The unparalleled efficacy and comfort of the Sports Knee Support gets you back to running in a shorter amount of time. The Sports Knee Support is also built to last with its durable and washable knit material.
How to Treat Pes Anserine Bursitis?
Treating pes anserine bursitis starts with taking a break from your sporting activities or at least significantly dialling down your training workload.
This doesn't necessarily mean that you have to give up all activity or exercise. Targeted strengthening and stretching exercises can be done to help strengthen the hamstring muscles and adductors. It is their weakness and/or lack of mobility that often causes pes anserine bursitis.
Additionally, you can use foam rolling (e.g. self-treatment of the painful area in the pes anserinus) with a fascia foam roller. Reducing tension in the anterior and posterior thigh muscles really helps with this. Of course, you should always make sure that you don't exceed your pain threshold with these types of exercises.
Returning to Training: How a Knee Brace Can Help
Once the tendon in the knee is irritated and pain is noticeable, finding the right knee brace is essential to finding relief and speeding up the recovery process. When you return to your running training, wearing a knee brace will help stabilize your knee and protect it from recurring injury and excessive strain.
If you are suffering from pes anserine bursitis, your knee needs stability and strengthening. Fortunately, that is exactly what our Sports Knee Support provides.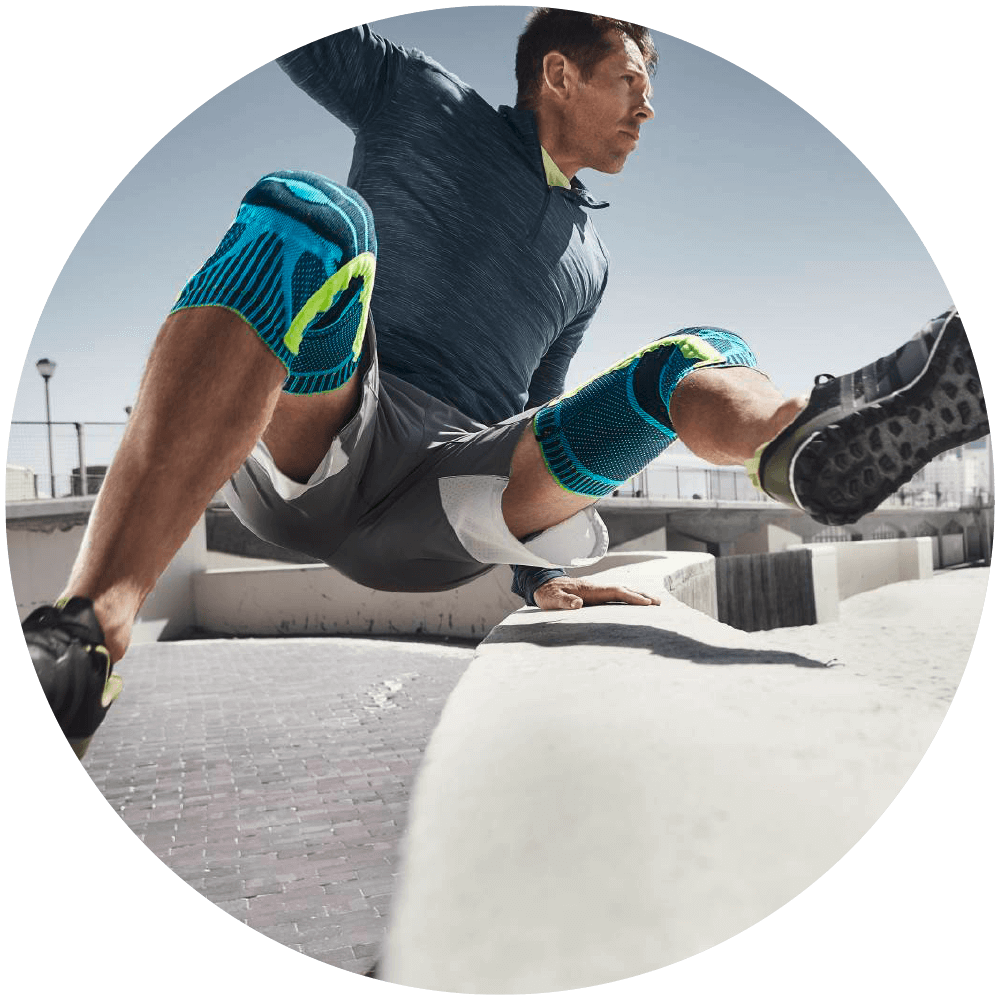 Made for Athletes
Extra breathable, moisture-wicking Airknit material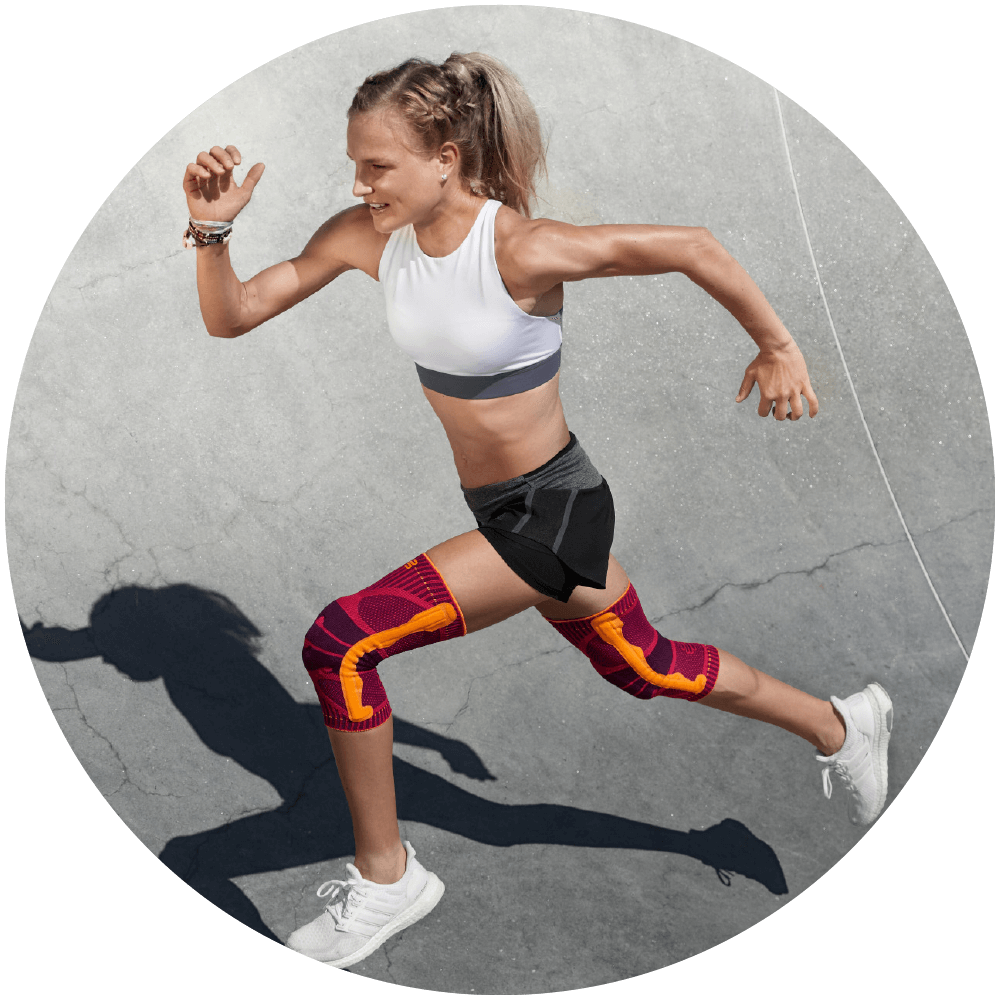 Improves Confidence
Alleviates the effects of overuse and high impact activity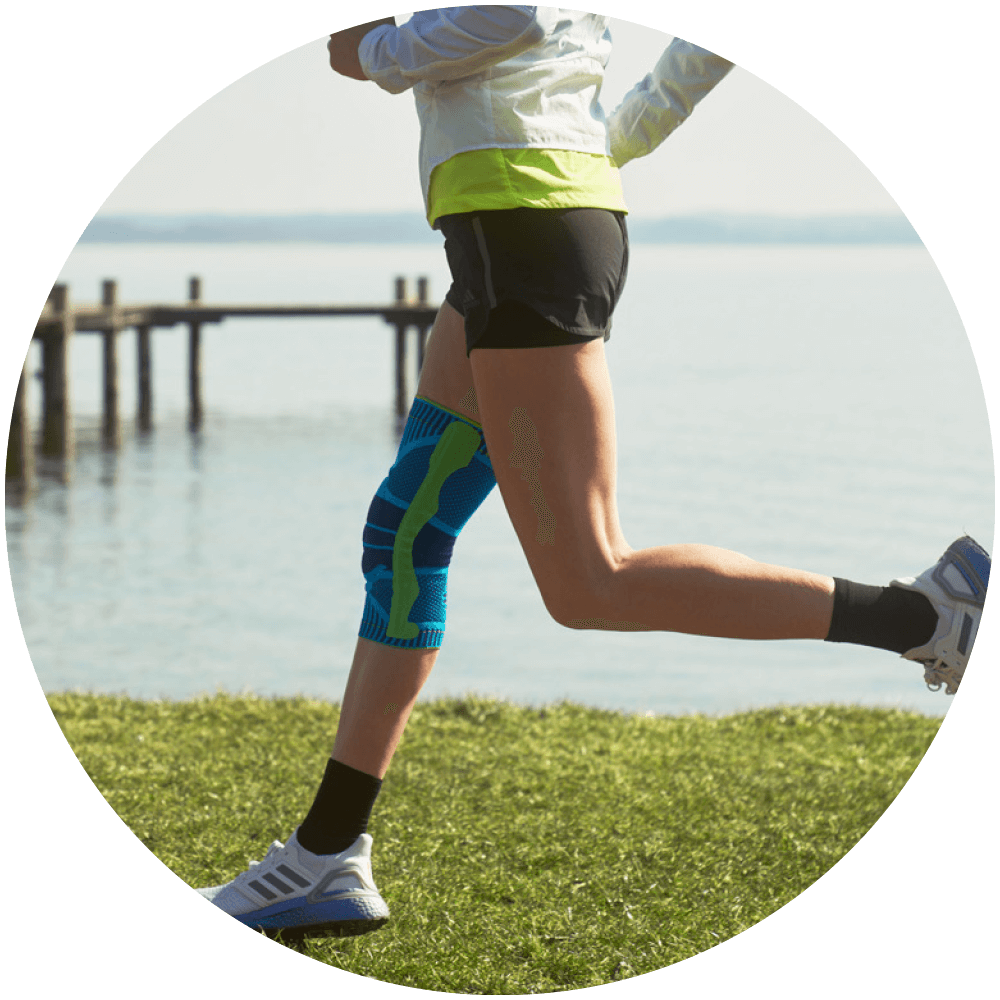 Durable
Washable knit outlasts a marathon spin-cycle
How to Prevent Pes Anserine Bursitis?
Gradually Increase Your Exercise Level - You can prevent pes anserine bursitis by strengthening the muscles around your knee to ease pressure and stabilize the knee joint. Tendons can adapt to new requirements when strain is increased gradually. This can be done via regular stretching of the (posterior) thigh muscles and adductors or targeted planning of your training load. This type of training helps prevent irritation of the "goose foot," which is what this bony protrusion is also called because of its shape.
Wear a Knee Brace - Wearing a knee brace allows for better proprioception that stabilizes and massages your knee joint while being active.
Warm Up & Stretch Before Running - While jumping right into a run is exciting, you must warm up and cool down with proper stretches to avoid injury during or after your run.
Manage Your Weight - Maintaining a healthy weight helps keep the stress on your joints low, thus avoiding excessive strain and injury.
Wear Good Running Shoes - You should wear running shoes that are supportive, secure, and suitable for the terrain that you are running in.
---
This information is provided for general information purposes and should not be relied on as a substitute for medical advice, evaluation or care from a qualified and licensed health care provider. The information contained here is not to be considered a plan of care of physical therapy.
---