Why Bauerfeind?
Don't let back pain slow you down. Almost 80% of Americans will experience back pain at least once in their lives*, and it can knock you off your feet. With a full line of back braces and supports, Bauerfeind has the right solution for you.
Bauerfeind's lightweight, breathable back braces provide stability while allowing for full range of motion and encouraging abdominal and back extensor muscle activity. Strategically placed gel pads with friction nubs provide a massage effect in targeted areas to relieve pain, reduce muscle spasm and increase circulation.
The net gain? Less pain. More stability. Bauerfeind back braces and supports give you the confidence to do what moves you.
When the LumboTrain back support was incorporated with return to work programs – medical studies** show a 52% reduction of dependency on pain medication and 4.8 fewer sick days due to low back pain.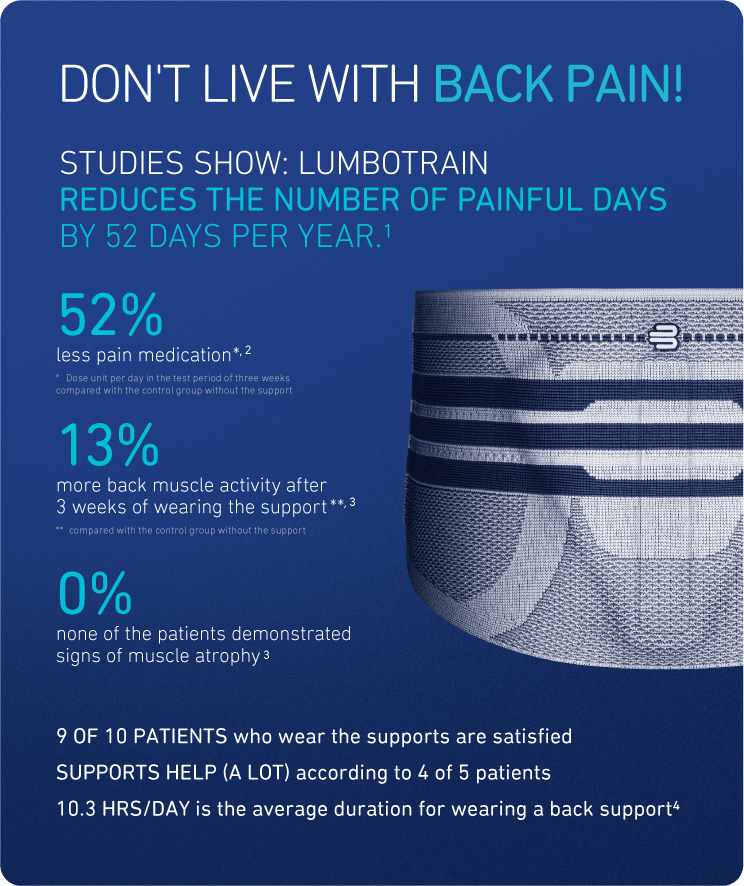 Compare our Back Braces

Sports Back Support

$104.99

LumboTrain/Lady

$199.00

LordoLoc

$149.95

LumboLoc

$149.95

SacroLoc

$224.95

Best for

Back pain and back sprain

Back pain
Back sprain
Mild herniated disc
Muscular weakness
Intervertebral disk degeneration

Chronic lumbar syndrome
Moderate degeneration of the spine
Moderate muscular insufficiency
Conditions that require moderate motion control

Moderate lumbar syndrome
Moderate lumbar degeneration
Moderate lumbar muscular insufficiency
Facet syndrome

SI joint instabilities
SI joint arthritis
SI joint syndrome
SI joint pain

Properties & Benefits

AIRKNIT: Made from a highly elastic and breathable Airknit for a carefully regulated amount of compression. It allows maximum freedom of movement combined with ideal back stabilization especially during sports.
MASSAGE PAD: Soft pad with 6 massage nubs provides intermittent massage with movement to reduce trigger points and stimulate muscles
COMFORT FASTENING: Closure with air holes and practical hand straps is individually adjustable and provides a secure fit during excercise.

COMPRESSION KNIT: Textured, anatomically contoured compression knit for improved proprioception, additional muscle activation and pain relief. Male and female version available.
MASSAGE PAD: Advanced two-component triangular shaped pad with 26 massage nubs loosens tense muscles and relieves pain in the lower back
COMFORT FASTENING: Closure with air holes and practical hand straps is individually adjustable and provides a secure fit for all day wearing comfort.

COMPRESSION KNIT: The stretchy, anatomical-contoured three-dimensional knit activates abdominal and back muscles with intermittent compression.
CORSET STAYS: Flexible, integrated stays provide anatomically correct support and moderate motion control.
COMFORT FASTENING + TENSIONING STRAPS: Closure with practical hand straps and elastic tensioning straps allow for easy application and adjustment, even for people with arthritis.

COMPRESSION KNIT: Firm, anatomical-contoured knit creates slight resistance during movement and massages and stimulates the stabilizing muscles.
CORSET STAYS: Four flexible, aluminum corset stays help support the back and facilitate correct posture in the lumbar spine.
COMFORT FASTENING: Closure with practical hand straps is individually adjustable and provides a secure fit.

COMPRESSION KNIT: Soft, breathable meshlike knit for improved proprioception, additional muscle activation and pain relief.
TWO MASSAGE PADS: Two friction pads on the sacroiliac joints provide targeted pain relief.
COMFORT FASTENING + TENSIONING STRAPS: Closure with finger loops and elastic tensioning straps for circular compression allow for immidiate relief and adjustment.

Sizes

Sizes XS-XL
27 ½-51¼ inches
70-130 cm

Sizes 1-7
27 ½-57 inches
70-145 cm

Sizes 1-6
27 ½-51¼ inches
70-130 cm

Sizes 1-6
27 ½-51¼ inches
70-130 cm

Sizes 1-7
27 ½-55 inches
70-140 cm

Shop now
Shop now
Shop now
Shop now
Shop now
---
*"Mayo Clinic Medical Edge: Low back pain usually can be managed without surgery"; Michelle Clarke, M.D., Neurologic Surgery, Mayo Clinic, Rochester, Minn. (2012)
**"Controlled trial of a back support (LumboTrain) in patients with non-specific low back pain", Valle-Jones J., C.; Walsh H.; O´Hara J.; O`Hara H.; Davey N., B.; Medical Consulting Centre; Essex (1992)
"Lumbar Supports to Prevent Recurrent Low Back Pain among Home Care Workers"; Pepijn D.D.M., Roelofs, MSc, et al.; Ann Intern Med. (2007)
1 Roelofs et al; Lumbar Supports to Prevent Recurrent Low Back Pain among Home Care Workers; Ann Intern Med. 2007; 147:685-692. (ISRCTN registration number: ISRCTN73707379)
2 Valle-Jones J, C, Walsh H, O´Hara J, O`Hara H, Davey N, B, Controlled trial of a back support (LumboTrain) in patients with non specific low back pain; Curr. Med. Res. Opin.,(1992), 12, 604
3 Anders, C., Hubner, A.: Influence of elastic lumbar support belts on trunk muscle function in patients with nonspecific acute lumbar back pain, PLoSONE 14(1): e0211042. https://doi. org/10.1371/journal.pone.0211042; 2019
4 Representative survey conducted by the Allensbach Institute for Public Opinion Research on behalf of eurocom e.V., 2019