Acute and chronic lower back pain can have various causes. In cases of nonspecific low back pain, otherwise known as mechanical back pain (back pain related to the structure of the back without any underlying illness), an interaction of different factors is usually assumed as the trigger: physical strain, an unfavorable posture, weak muscles and stress and psychological strain. If there are several causes, it's not enough to address only one area. You need a comprehensive approach, which is exactly what Bauerfeind's back therapy provides. It combines several established treatment measures that are designed to strengthen your back and alleviate pain in the long term.
Actively relieve pain with Bauerfeind's back therapy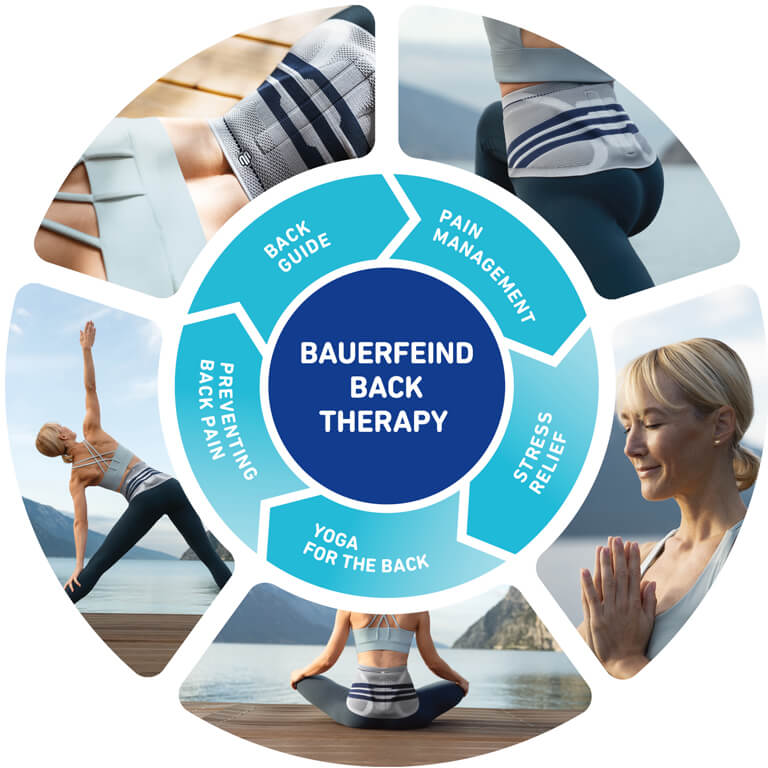 The advantages of comprehensive back therapy are based on different elements. Therefore, it can purposefully address why the numerous causes of pain are essential for successful treatment.
Bauerfeind's back therapy:
Is based on comprehensive back treatment. According to studies, it's currently the superior option in cases of general back pain.
Focuses on the holistic treatment of back pain.
Features extensive information and tips relating to a healthy back, pain management, exercises and yoga as well as our back braces and supports.
Before starting, please consult your physician on whether you can incorporate the therapy components into your current treatment.
Discover the five therapy modules!
We've designed the individual modules in such a way that you can easily integrate them into your everyday life, so that these measures can become habits without hassle for long-term treatment success and a strong, healthy back. Depending on severity, a back brace can provide you with additional support.
How back braces can help with your back therapy
Based on the findings from our back therapy modules, increased activity during everyday life, stress relief, gentle stretching and strengthening exercises, back-friendly posture at work and pain management are key steps toward lasting back pain relief.
Bauerfeind back supports and braces stabilize your back, encourage a healthy posture, help alleviate pain and can get you active again. A soft and breathable knit makes them extra comfortable to wear. Your healthcare provider can help you determine which products are best for your indication.