GenuTrain S Knee Brace
Extra stability to keep the knee in proper position
GenuTrain S Knee Brace
Extra stability to keep the knee in proper position
The GenuTrain® S knee brace provides reliable support for the knee thanks to the combination of joint side bars and an adjustable strap system.
Extra support for added stability
Bauerfeind's GenuTrain® S knee brace has an extra level of support using side bars and a knee cap insert to guide the knee's movement while keeping the area stable. The knee is stabilized but your mobility is not affected.
Guides and massages
A viscoelastic padded ring keeps the kneecap centered. This produces a massage effect which activates the surrounding muscle tissue and stimulates circulation. The GenuTrain S brace combines medical grade compression with soothing massage to reduce swelling, irritation and pain. Your muscle control is improved and your knee receives more support. Give your knee the extra support it needs, with GenuTrain S knee braces and supports by Bauerfeind.
Components
Three-dimensional fabric - Automatically conforms to the body's natural shape for ideal fit and optimal joint stabilization.
Adjustable straps - Lets you control the amount of pressure, for a better fit and just the right amount of support.
Joint side bars - Straps connect directly to side bars for superior stability in the knee and surrounding area.
Viscoelastic pads - with a massage effect during movement
Soft knit fabric - Breathable knit is comfortable to wear and keeps moisture away from the body.
Reduced pressure at the edges - prevents constriction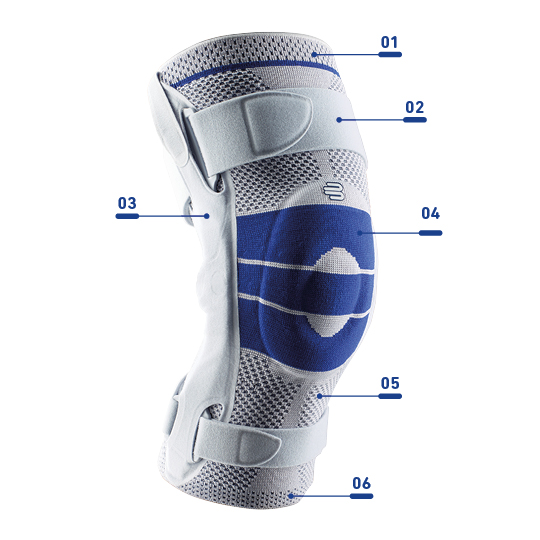 Treatment of
Arthritis of knee
Rheumatoid arthritis
Bone on bone arthritis
Strained/ruptured medial collateral ligament of the knee
Strained/ruptured lateral collateral ligament of the knee
Advanced knee sprain
Mild to moderate knee instabilities
More advanced meniscus tears
Can I wash it?
Yes. All Bauerfeind supports are made with machine-washable materials. Here's how to care for your brace: For products with Velcro® straps, pads or inserts, remove them if possible, or fasten them securely at the place provided on the brace. Machine wash your brace in cold water using the gentle or delicate cycle. Wash separately using laundry detergent with no additives (do not use fabric softener or Woolite). Lay your support flat and let it air dry; do not put it in the dryer. Proper washing and drying helps your knit support maintain elasticity and original fit.
What if I'm between sizes? Should I purchase the smaller or larger size?
Choose the larger size for gentler compression or the smaller size for firmer compression. When between sizes, the average person prefers the smaller size for a more secure fit, unless you are sensitive to compression. If you are unsure what size you need, contact our experts and we'll be happy to help. Call 1-800-423-3405 or click to chat live online.