MalleoTrain Plus Ankle Brace
Extra stability for the ankle joints and tendons
MalleoTrain Plus Ankle Brace
Extra stability for the ankle joints and tendons
The MalleoTrain® Plus support stabilizes the ankle following injuries resulting from twists or sprains as well as in cases of ligament weakness and extreme overloading during sports.
Greater stability
If you've twisted or sprained your ankle, you need stability and pain relief to continue living your active lifestyle on your terms. Bauerfeind's® MalleoTrain Plus ankle support increases stability and helps avoid twisting. With MalleoTrain Plus supports, your movement activates a massage effect to relieve pain and reduce swelling. Two pads at the inner and outer ankle keep the ankle in place to stimulate circulation without limiting your ability to move freely.
Effective replacement for tape
Unlike athletic tape, the strap system of MalleoTrain Plus delivers optimal support and can be adjusted for just the right amount of gentle pressure, so you will be supported, yet comfortable.
Soft knit fabric
Made from comfortable knit, it's easy to care for your brace. Just secure the Velcro strap to itself and toss it in the washer on the gentle cycle, which helps the support maintain its original elasticity and fit.
Get back on your feet faster
The MalleoTrain Plus soft knit support is comfortable, yet effective so you can get relief from pain and help the healing process.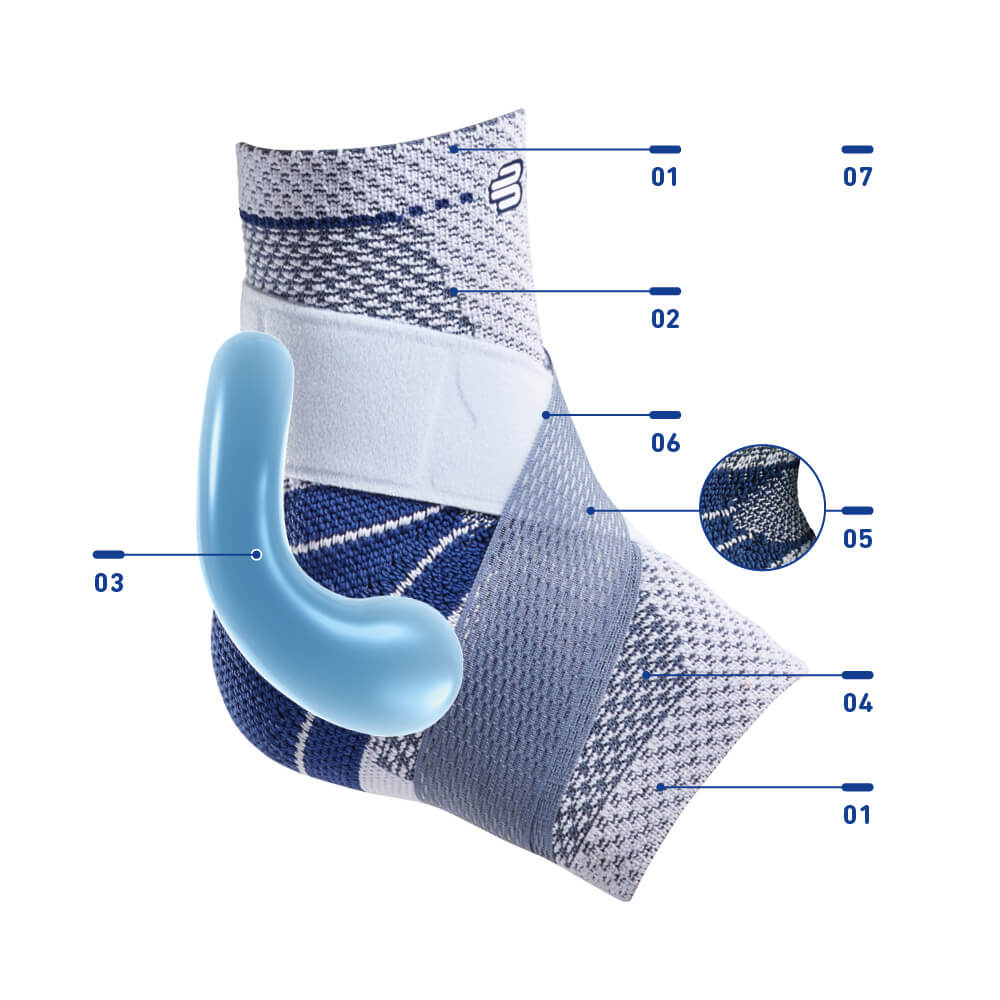 Treatment of
Moderately sprained ankle
Moderate swelling of the ankle
Ankle ligament tear
Can I wash it?
Yes. All Bauerfeind supports are made with machine-washable materials. Here's how to care for your brace: For products with Velcro® straps, pads or inserts, remove them if possible, or fasten them securely at the place provided on the brace. Machine wash your brace in cold water using the gentle or delicate cycle. Wash separately using laundry detergent with no additives (do not use fabric softener or Woolite). Lay your support flat and let it air dry; do not put it in the dryer. Proper washing and drying helps your knit support maintain elasticity and original fit.
What if I'm between sizes? Should I purchase the smaller or larger size?
Choose the larger size for gentler compression or the smaller size for firmer compression. When between sizes, the average person prefers the smaller size for a more secure fit, unless you are sensitive to compression. If you are unsure what size you need, contact our experts and we'll be happy to help. Call 1-800-423-3405 or click to chat live online.
write a review
Outstanding for hEDS support!
Great Ankle brace for EDS joint pain
Impossible to find anything better!