MalleoTrain S open heel Ankle Brace
Heel cut out for maximum ankle stability
MalleoTrain S open heel Ankle Brace
Heel cut out for maximum ankle stability
Bauerfeind's MalleoTrain® S Open Heel ankle braces and supports with heel cut-out provide increased ankle stability and security during barefoot movements.
Stabilize against twisting
The MalleoTrain S Open Heel support stabilizes against lateral twisting to give your ankle more security. The ankle joint is supported in all directions thanks to a three-level strap system. The ankle is stabilized without constricting movement.
Massaging comfort
The knit brace has a light, beneficial compression effect that gently massages with every movement. This stimulates blood circulation and reduces swelling. The brace is made of soft knit material that is machine washable in the gentle cycle, which helps maintain its elasticity and original fit.
Ideal for barefoot sports
The open heel improves ground contact during barefoot exercise and sports. Ankle stability and proper contact with the ground are especially important for barefoot athletics like dancing, martial arts, gymnastics and yoga.
Stay in the game
Don't give up your favorite barefoot sports or activities. Get stability and comfort for your ankle, with MalleoTrain S Open heel braces and supports by Bauerfeind.
Components
Pressure-reduced edges: Less compression at the edges for an optimal and comfortable fit that improves circulation
Medical-grade compression knit provides gentle massage with every movement, for relief from pain and swelling
Special high-low knitted fabric increases skin contact for secure positioning and stimulation of the body's own stabilization mechanism (proprioception)
Soft comfort zone in the sensitive instep area
Strap system with 3 varying levels of elasticity provides extra stability and counteracts supination similar to athletic taping - durable and washable
Open heel for improved contact with the ground when walking barefoot
Highly elastic knit fabric and enclosed donning aid make the support easy to put on and take off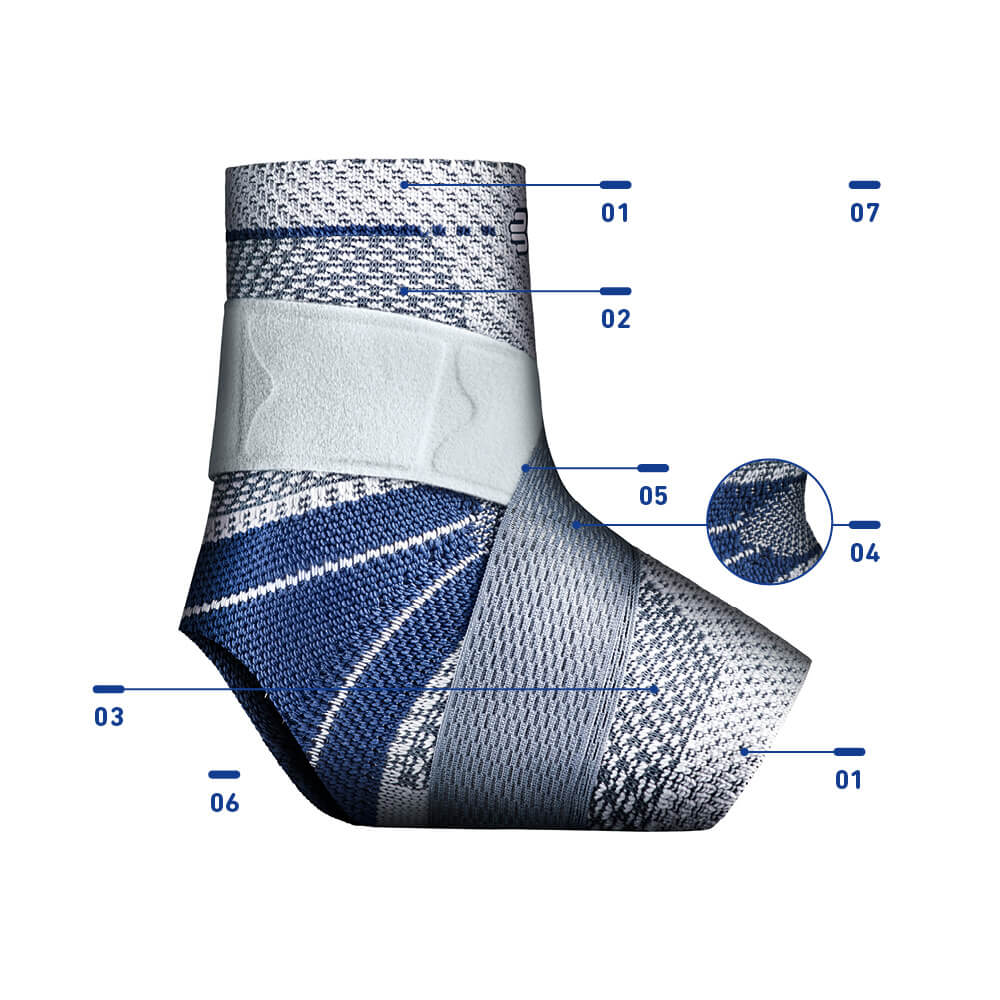 Treatment of
Moderately sprained ankle
Moderate swelling of the ankle
Ankle ligament tear
Can I wash it?
Yes. All Bauerfeind supports are made with machine-washable materials. Here's how to care for your brace: For products with Velcro® straps, pads or inserts, remove them if possible, or fasten them securely at the place provided on the brace. Machine wash your brace in cold water using the gentle or delicate cycle. Wash separately using laundry detergent with no additives (do not use fabric softener or Woolite). Lay your support flat and let it air dry; do not put it in the dryer. Proper washing and drying helps your knit support maintain elasticity and original fit.
What if I'm between sizes? Should I purchase the smaller or larger size?
Choose the larger size for gentler compression or the smaller size for firmer compression. When between sizes, the average person prefers the smaller size for a more secure fit, unless you are sensitive to compression. If you are unsure what size you need, contact our experts and we'll be happy to help. Call 1-800-423-3405 or click to chat live online.