ManuTrain Wrist Brace
Relieves wrist strain and stabilizes during movement
ManuTrain Wrist Brace
Relieves wrist strain and stabilizes during movement
Bauerfeind's ManuTrain wrist brace stabilizes and relieves without impeding gripping motion. Its innovative two-part strap system can be adjusted as recovery progresses. With a breathable, moisture-wicking and anatomically contoured knit, the ManuTrain is comfortable and easy to wear while recovering from strain or injury. Whether acute injury, ongoing strain, chronic wear, or after surgery: Bauerfeind's ManuTrain Wrist Brace stabilizes the wrist, alleviates pain and promotes recovery.
Relief from Wrist and Hand Pain
ManuTrain wrist support takes the strain off your wrist and provides pain relief. With a soft, flexible and breathable knitted fabric, the brace conforms to your wrist shape for a secure fit and medical-grade compression that provides intermittent massage during movements and promotes healing circulation. Together with a gel pad, this delivers targeted massage to joint-stabilizing muscles to strengthen your wrist to help provide soothing pain relief.
Extremly Comfortable
The ManuTrain wrist support is soft, breathable, and moisture-wicking for all-day wearing comfort. Reduced compression at the edges of the support and an anatomically-contoured thumb opening ensure comfortable movements during every day activities. The knit is machine-washable in the gentle cycle for easy care.
For Every Aspect Of Recovery
When treatment progresses, the ManuTrain's adjustable strap system allows stabilization of the wrist with three possible activity levels: Level 1, effectively restricts painful movements with the innovative two-part strap system. Level 2, stabilizes the wrist with the fascia-strap for moderate stability. Level 3, supports the wrist with ManuTrain's medical-grade compression knit and massage pad for mild symptoms.
Includes Donning Aid
The stretchy knitted material and the supplied donning aid make the ManuTrain support easy to put on and take off.
Components
Adjustable two-part strap system for individual stabilization of the wrist as treatment progresses
Anatomically shaped thumb opening with soft, seam-free comfort zones for extra comfort
Less compression at the edges for improved fit and circulation
Viscoelastic pad provides targeted massage
Anatomically contoured Train knit promotes an ideal fit for optimal medical efficacy
Easy to put on and take off due to stretchy knit and enclosed donning aid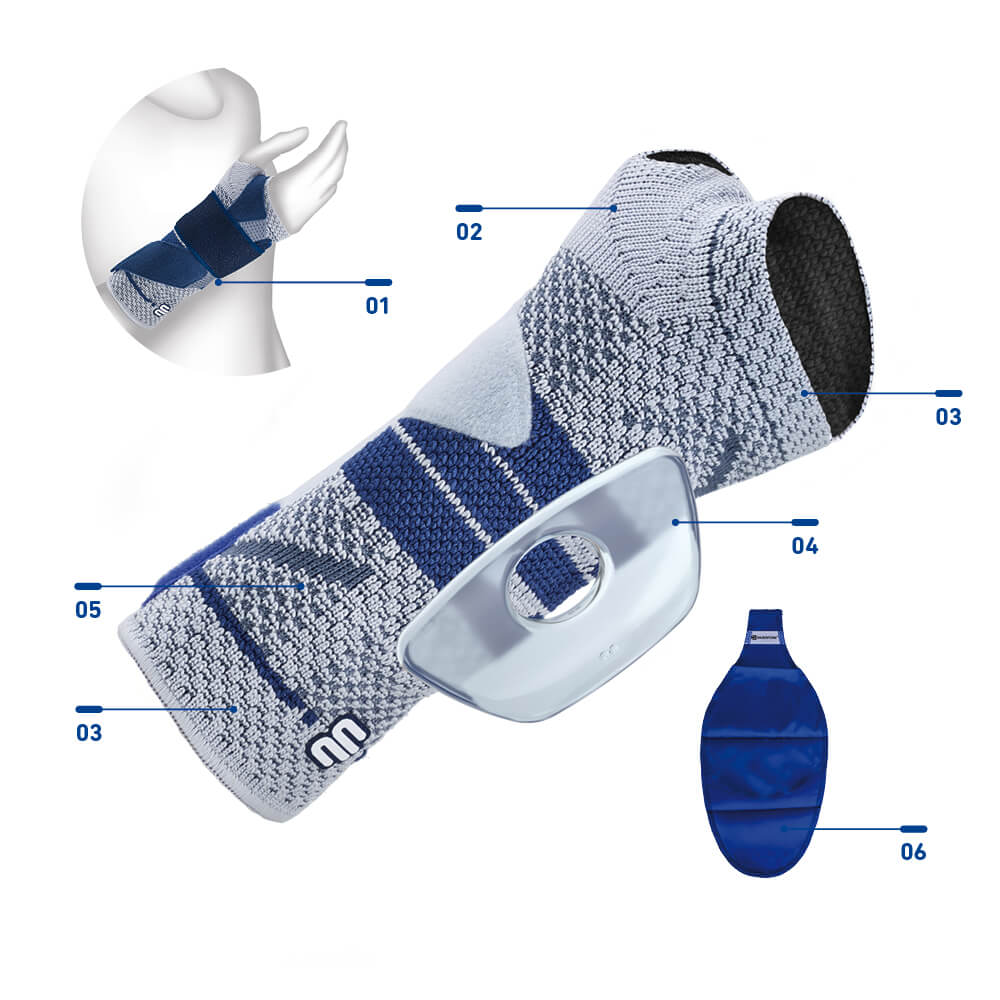 Treatment of
Sprain
Wrist arthritis
Wrist tendinitis
Carpal tunnel