Erin Grigsby here! As a physical therapist, people often ask me for recommendations on the "best brace for running" so I'll try to address each sport/activity in this series. Today we're discussing the best knee brace for running and I'll give my recommendation based on the features and benefits that runners need.
BAUERFEIND SPORTS KNEE SUPPORT
Non-Slip Design: Runners want a brace that stays in place, because the best brace in the world doesn't help if it's down around your ankles or you're constantly stopping to pull it up. With its anatomical shape and gripping zones, the Bauerfeind Sports Knee Support is designed to stay in place during rigorous activity.
Kneecap Stabilization & Pain Relief: Kneecap tracking is often the source of pain for many runners. To reduce pain you have to stabilize the kneecap. The Bauerfeind Sports Knee Support has an Omega Pad® made of viscoelastic material which provides 360º of stabilization and redistributes forces away.
Durable, Breathable & Washable: Comfort is important and this one is breathable and moisture-wicking. After your workout just throw it in the wash on a delicate cycle (no fabric softener, bleach or Woolite) and lay flat to dry, this will prolong the life of your knee support.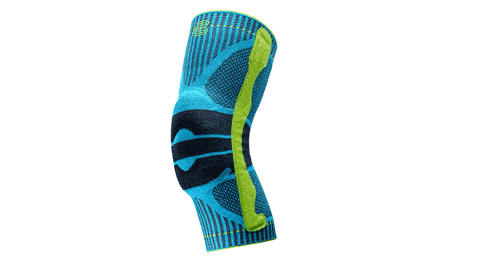 ---
Don't Just Take My Word For It. Here Are Some 5-Star Reviews From Real Customers:
"I am a runner and a cyclist. Due to overuse of my knees I developed knee pain. After many attempts in searching for a reliable knee support to help me continue with my outdoor activities I found this item and purchased it. I finally found a knee support that will allow me to continue with my sports activities. I wear it during my 6-8 miles run three times a week. It stays in place, feels snug but comfortable and gives me the support I need. I am very happy with it and highly recommend this product." – Carina M. via Amazon.com
"Best knee brace. I like that it is longer. It provides a lot of support and stays in place while running." – Emily via Amazon.com
"It's the knee brace ever!!! I've been a sprinter since elementary school. I've done so much damage to my running so but this knee support tops any brace my dr has every given me." – via Amazon.com
"I used this to train for my marathon. Helped me get my training runs done when my knee hurt. I think it gave my knee enough support that it helped it heal faster than without it." – Angela Busey via Amazon.com
"Worth the $$$. Best fit of any knee brace I have purchased." – S.J. via Amazon.com
"Wonderful support! Unlike any other knee brace that I've owned and I have had almost every kind. Doesn't slide down easy to get on and off." – Emily via Amazon.com
""Best knee sleeve I've ever owned." – Rick G. via Amazon.com
"Great brace! Holds the patella in place while providing support. Lightweight and very breathable. Stays in place! Most braces slip while being worn. Holds its shape and seems like it will not get too stretched out over time." – via Amazon.com
---
This information is provided for general information purposes and should not be relied on as a substitute for medical advice, evaluation or care from a qualified and licensed health care provider. The information contained here is not to be considered a plan of care of physical therapy.
---