"Almost 80% Of Americans Will Experience Back Pain At Least Once In Their Lives."
Bauerfeind Has Your Solution.
Back pain is very common. Whether it is due to heavy lifting, poor posture, weekend sports or even prolonged sitting at work, almost 80%* of Americans will experience back pain at least once in their lives. Traditionally most people ice, rest or use over the counter pain patches or creams as first treatment. For more severe cases seeing a doctor for prescription medicine, injections and physical therapy is often the next step.
A frequently forgotten, effective, and conservative first line of treatment is back bracing. Bauerfeind has two comfortable, effective options to relieve low back pain that do not cause muscle weakening or loss of range of motion.
The LumboTrain back brace stabilizes the lower back with its patented, breathable knit for unparalleled wearing comfort. The LumboTrain has no rigid components allowing for full range of motion, encouraging abdominal and back extensor muscle activity and not causing core weakening. The strategically placed viscoelastic pads with friction nubs provide a massage effect in targeted areas to relieve pain, reduce muscle spasm and increase circulation.
When the LumboTrain was incorporated with return to work programs – medical studies** show a 52% reduction of dependency on pain medication and 4.8 fewer sick days due to low back pain.
The pelvis is mainly stabilized by ligaments, not muscles, so once an instability is present in the pelvis, frequently bracing is the best choice to treat it.
WHILE THE MAJORITY OF BACK PAIN COMES FROM THE BACK, SOME LOWER BACK PAIN ACTUALLY ORIGINATES FROM THE SACROILIAC JOINT (SI JOINT), OTHERWISE KNOWN AS THE PELVIS.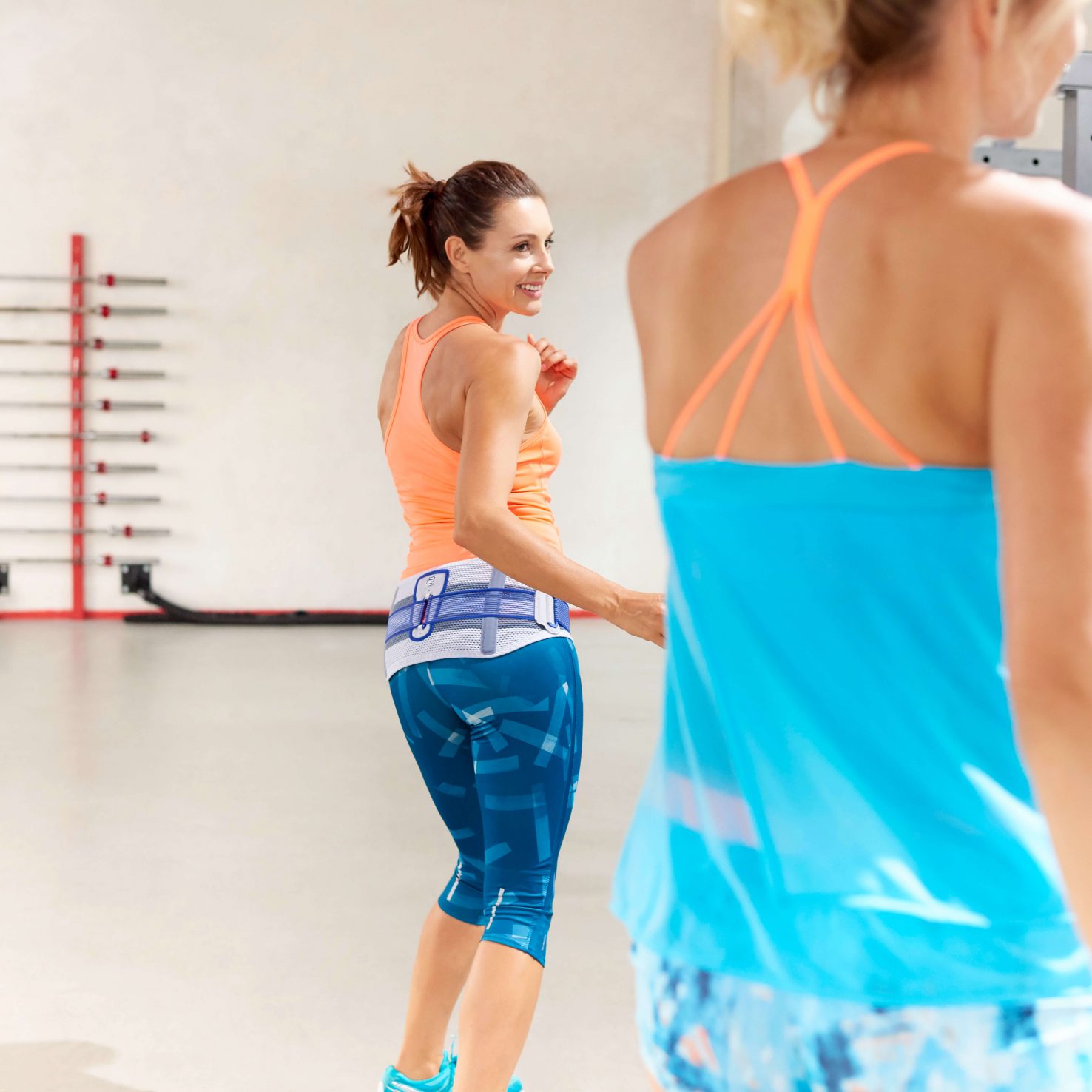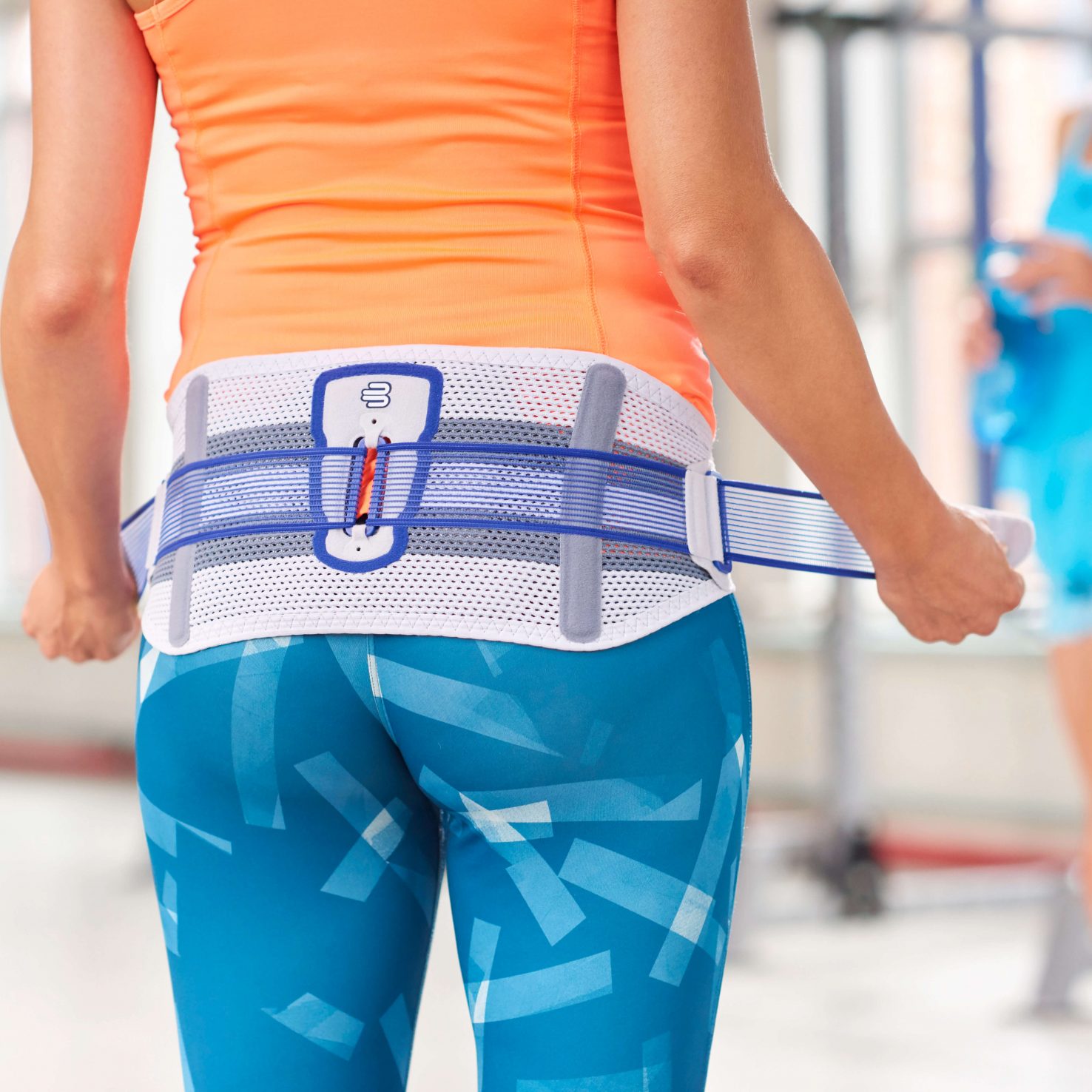 THE BAUERFEIND SACROLOC IS ANATOMICALLY SHAPED TO STAY IN PLACE AND STABILIZE THE SI JOINT/PELVIS FOR IMMEDIATE PAIN RELIEF DUE TO INSTABILITIES.
Pairing nicely with a Bauerfeind back support is the ViscoPed S. This premium viscoelastic insole gives superior shock absorption and anti-vibration not only to the foot, ankle, knee and hip but the shock absorption can also lower shock and force on the spine. This is easy to relate to as most people with low back pain notice their pain is worse when on hard floor like concrete and better when on softer surfaces like soft ground outside. Wearing the ViscoPed S can soften the forces up the whole kinetic chain there by reducing back pain.
Good posture and body mechanics can lower your chances, but chances are at one time or another you may experience back pain. Think Bauerfeind LumboTrain, SacroLoc and ViscoPed S to help get you back to living your life to its fullest potential.
---
*"Mayo Clinic Medical Edge: Low back pain usually can be managed without surgery"; Michelle Clarke, M.D., Neurologic Surgery, Mayo Clinic, Rochester, Minn. (2012)
**"Controlled trial of a back support (LumboTrain) in patients with non-specific low back pain", Valle-Jones J., C.; Walsh H.; O´Hara J.; O`Hara H.; Davey N., B.; Medical Consulting Centre; Essex (1992)
"Lumbar Supports to Prevent Recurrent Low Back Pain among Home Care Workers"; Pepijn D.D.M., Roelofs, MSc, et al.; Ann Intern Med. (2007)
---
This information is provided for general information purposes and should not be relied on as a substitute for medical advice, evaluation or care from a qualified and licensed health care provider. The information contained here is not to be considered a plan of care of physical therapy.
---