Ehlers-Danlos syndrome (EDS) is a rare connective tissue disorder that can affect the body in different ways with each individual displaying varying symptoms. The majority of people affected do have some main symptoms in common. Hypermobility, skin elasticity and digestive issues affect most people with EDS, most commonly causing joints like the ankles, knees, hips, shoulders and wrists to hyperextend, dislocate or subluxate.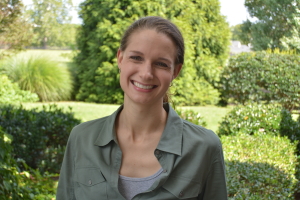 Ashley Eriksen
Ashley Eriksen began noticing frequent and painful injuries while in high school as a stand-out basketball and soccer athlete. A twisted ankle here, an out-of-socket knee there. Her accidents kept happening, more and more frequently, and her pain could not be ignored. But, at the time, she didn't know it was because she had Ehlers-Danlos syndrome.
"I had hopes of playing sports in college and wanted to walk on the basketball team at Clemson University," Eriksen said. "But my condition kept getting worse, to the point that sports were no longer an option."
Like many people with EDS, Eriksen had been misdiagnosed for years, but after experiencing confusing doctor visits and frustrating exams time and time again, her symptoms were finally recognized as a sign of worsening EDS.
"Before I was diagnosed, I was scouring the internet looking for help to relieve my pain when I found Bauerfeind. Their products were the first that truly helped me," she said. "The biggest thing that you lose with EDS is your muscular stability. Your joints become overly relaxed. For me, Bauerfeind's soft products serve as artificial connective tissue. Wearing Bauerfeind braces helps with proprioception, and the result is that I feel reassured when I have them on, even if I'm not in pain."
Eriksen uses a variety of Bauerfeind products to ease her joint pain, including the GenuTrain S Pro Knee Brace, the LumboLoc Back Brace and the ManuTrain Wrist Brace, wearing each when needed throughout the day.
"During the day, my muscles get tired, then I know I'm setting myself up for pain," she said. "I wear Bauerfeind braces so I can go longer."
David Griggs
"For me, wearing (ordinary) support braces was a complete waste of time until I discovered Bauerfeind," Griggs said. "I used their braces continually for three months before I realized I was using them less and less. That's when it dawned on me. Our biggest problem is we don't have time to heal before we re-injure ourselves."
David Griggs uses Bauerfeind products as part of his Ehlers-Danlos syndrome care regimen. He's also a father of four, with two children that have inherited his genetic condition. As a father, Griggs says that he is confident in knowing his children feel safe because they have their braces and can put them on at any time.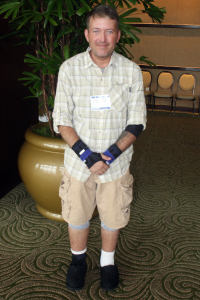 ---
This information is provided for general information purposes and should not be relied on as a substitute for medical advice, evaluation or care from a qualified and licensed health care provider. The information contained here is not to be considered a plan of care of physical therapy.
---