Two People With Ehlers-Danlos Syndrome Share Their Story Of Discovering Bauerfeind And How The Products Have Helped Them On Their Path To Wellness.
As a stand-out basketball and soccer star, Ashley Eriksen knew something was gravely wrong more than two years ago. A twisted ankle here, a knee out of socket there. Her accidents kept happening, more and more frequently, and her pain could not be ignored. But no one knew she suffered from Ehlers-Danlos syndrome.
"Before January 2012, I had never heard of this syndrome," the Tennessee native says. "I had hopes of playing sports in college, and wanted to walk on the basketball team at Clemson University. But my condition kept getting worse, to the point that sports were no longer an option."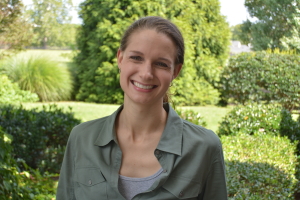 Like many Ehlers-Danlos syndrome (EDS) patients, Ashley Eriksen had been misdiagnosed for years.
"In November 2009, I dislocated my sacrum. The doctors thought it was a herniated disk," she says.
After years of confusing doctor visits and frustrating exams, finally her symptoms were recognized as a sign of worsening EDS, a group of heritable connective tissue disorders, characterized by articular (joint) hypermobility, skin extensibility and tissue fragility.
More stability, less pain
Ashley's doctor began a rigorous treatment to control her progressive disease that included recommending a familiar name for pain relief and stability.
"Before I was diagnosed, I was scouring the internet looking for help to relieve my pain when I found Bauerfeind. Their products were the first that truly helped me," she says. "The biggest thing that you lose with EDS is your muscular stability. Your joints become overly relaxed. For me, Bauerfeind soft products serve as artificial connective tissue. Wearing Bauerfeind braces helps with proprioception, and the result is that I feel reassured when I have them on, even if I'm not in pain."
Ashley Eriksen uses a variety of Bauerfeind products to ease her joint pain including the GenuTrain S Pro knee brace, the LumboLoc back brace and ManuTrain wrist braces. Although she doesn't wear her Bauerfeind soft braces 24/7, she does put them on as the day progresses.
"During the day, my muscles get tired. Then I know I'm setting myself up for pain. I wear Bauerfeind braces so I can go longer," she says.
Bauerfeind products as a key part of the care regimen
As the Director of the Adult Genetics Program at the Harvey Institute for Human Genetics at the Greater Baltimore Medical Center, Dr. Clair Francomano treats patients with Ehlers-Danlos syndrome and similar conditions almost every day.
"On average, we see about 12-15 patients with these conditions every week, and I do telephone consultations for 6-8 established patients weekly as well," she says."On average, we see about 12-15 patients with these conditions every week, and I do telephone consultations for 6-8 established patients weekly as well," she says.
In the course of her work, Dr. Francomano fully understands the struggles that her EDS patients experience.
"Most often, patients present with chronic pain and fatigue. People with Ehlers-Danlos syndrome have joint laxity due to a hereditary weakness in their tendons and ligaments. Their muscles are working overtime to stabilize their joints, and often the muscles will go into spasm because they are not strong enough to stabilize the joint in a non-painful way," she says.
That's why she recommends Bauerfeind products as a key part of her prescribed care regimen for EDS patients.
"Bauerfeind soft braces alleviate symptoms and pain by providing support to the joints," Dr. Francomano explains. "Since the joint is supported, the muscles around that joint are not working overtime to stabilize the joint, and they will stay in a relaxed state that is not painful. In a way, we are providing external support, or an exo-skeleton, since the patients' internal skeleton is unable to support itself."
A closet full of braces
David Griggs of Durham, North Carolina, says that people with EDS, no matter where they live, all have the same thing in common: a closet full of worthless braces.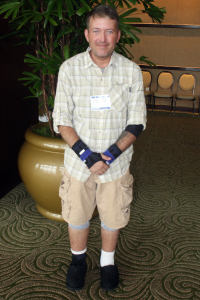 David Griggs was the first person in the U.S. to use Bauerfeind as part of his Ehlers-Danlos syndrome care regimen.
"They don't help our condition," Griggs says. "For me, wearing support braces was a complete waste of time until I discovered Bauerfeind. I used their braces continually for three months before I realized I was using them less and less. That's when it dawned on me. Our biggest problem is we don't have time to heal before we re-injure ourselves."
Griggs, a father of four children, including Kaitlyn (age 13) and David Jr. (age 16) who have inherited his genetic condition, was the first person in the United States to use Bauerfeind as part of his EDS care regimen.
As a father, Griggs says that he is confident in knowing his children feel safe because they have their braces, and can put them on at any time.
---
This information is provided for general information purposes and should not be relied on as a substitute for medical advice, evaluation or care from a qualified and licensed health care provider. The information contained here is not to be considered a plan of care of physical therapy.
---