From the first tee shot to the final putt on 18, Bauerfeind golf braces and supports relieve and stabilize your joints throughout each swing without limiting your mobility. No matter if you have experienced golfer's elbow, a shoulder injury or back strain – Bauerfeind has the right brace for you. Try our products risk-free with our 60-day money-back guarantee!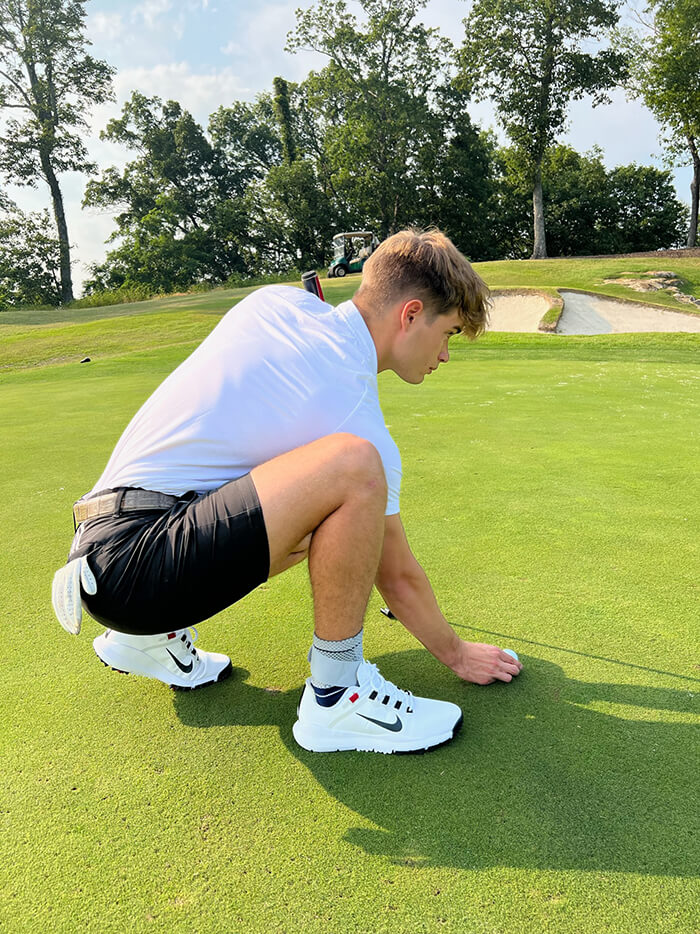 Teagan Miller
Collegiate Golfer, University of Mobile
More than a dozen Top-10 finishes as a junior on the Southeastern Junior Golf Tour
Wears the MalleoTrain Plus ankle brace to help reduce pain following an injury
---
"(The MalleoTrain Plus) has just been really helping me get back into playing golf and have less pain with my foot."
What are the most common injuries in golf?
The most common golf injuries result from several factors, including your swing technique, posture, fitness level and warm-up routine. Most injuries are overuse injuries, such as:

Golfer's elbow (medial epicondylitis)
Lateral epicondylitis (tennis elbow)
Wrist & hand injuries
Back pain or strain
Side/oblique or rib cage strains
Rotator cuff injuries
Knee injuries
Don't let pain handicap your golf game. Bauerfeind braces and supports help limit the risk of injuries and strain by stabilizing your joints throughout each swing without limiting your mobility, so you can make the most out of your time on the course.
With medical-grade compression, our premium products promote blood flow and proprioception to reduce pain and swelling. Each brace and support is made with a lightweight, low-profile and breathable knitted fabric, so you'll hardly notice you're wearing it.
Ask your healthcare provider for more information on which Bauerfeind product may be right for you.
How to prevent injuries while golfing?
Many of the injuries that stem from golfing are overuse injuries. Improving your swing technique and posture and following a proper warm-up routine can greatly reduce the risk of injury while golfing. Whether you're a novice or an experienced golfer, consider the following to avoid injury:
Lessons from a professional golf instructor for proper posture and technique
Wearing a golf brace or support to help stabilize your joints and relieve pain and swelling
Drinking plenty of water before, during and after your round
Avoid frequent and long practice sessions or playing more than 18 holes in one day
What is the difference between golfer's elbow and tennis elbow?
Golfer's elbow and tennis elbow are similar in their cause and symptoms, as both develop due to repetitive stress on the elbow and can lead to pain and swelling in the area.
Symptoms of golfer's elbow, such as pain and stiffness, occur around the bony protrusion on the inside of the elbow, while symptoms of tennis elbow, such as pain, stiffness and swelling, occur on the outside of the elbow. People with golfer's elbow (medial epicondylitis) can also experience tingling and numbness in their fingers or pain radiating down their arm. With tennis elbow (lateral epicondylitis), people might feel a weakened gripping motion, a burning sensation and pain twisting the hand on the outside of the elbow where the muscle connects through the tendon on the bone.
Although one is termed "golfer's elbow" and the other "tennis elbow," you can still experience golfer's elbow from tennis and tennis elbow from golf. The moniker is due to medial epicondylitis often occurring in golfers and lateral epicondylitis often occurring in tennis players.
What's the best treatment for golfer's elbow?
Treatment options for golfer's elbow will depend on the severity of your condition. Applying an ice pack around the area can help reduce acute pain and swelling. If you're experiencing severe pain and stiffness, it's best to rest until these symptoms subside.
Bauerfeind's EpiTrain golfer's elbow brace is great for anyone experiencing golfer's elbow because it uses medical-grade compression and two viscoelastic massage pads to stimulate your elbow muscles, reduce swelling and help the healing process. Furthermore, wearing a brace can limit the risk of re-injury or strain.
As always, please consult your healthcare provider to create and manage your recovery plan.
Do I need to wear a brace while playing golf?
If you've ever suffered an elbow, wrist, shoulder, back or knee injury, wearing an appropriate brace or support while golfing comes with several benefits. Bauerfeind products provide stability, alleviate pain and reduce inflammation and swelling for a good feel throughout brief range sessions or long days on the course.
If you've never had an injury, you may still want to consider an athletic brace like the Bauerfeind Sports Elbow Support, Sports Knee Support or Sports Wrist Strap to help protect yourself against excessive strain while playing golf.
What's the best way to wear a Bauerfeind brace?
Bauerfeind braces, supports and compression gear are best worn directly on the skin to provide medical-grade compression, stabilization and support to the joint, and increase proprioception. They are low-profile, lightweight and breathable and can be worn under clothing.
What if I'm between sizes? Which should I purchase?
Bauerfeind braces and supports are anatomically contoured and are most effective when they fit perfectly. Your brace should support you firmly without feeling tight or loose. Please use the size chart to size correctly.
If between sizes, we'd recommend contacting our team of expert product specialists at (800) 423-3405.
How often should you wash a Bauerfeind brace?
Bauerfeind's knit products must be washed regularly to maintain the strength of the knit and prevent stretching. How often to wash your brace or support depends on the frequency of use, but we recommend washing every 3-10 wears. Remember to read your product's care guide on washing, as fabric softener and Woolite can damage the product.
---
This information is provided for general information purposes and should not be relied on as a substitute for medical advice, evaluation or care from a qualified and licensed health care provider. The information contained here is not to be considered a plan of care of physical therapy.
---