Part tennis. Part badminton. Part ping pong. Pickleball is a fun sport whether you are leisurely playing or making it a fast-paced competitive game. Bauerfeind pickleball braces, sleeves and compression socks support and stabilize your joints, relieve pain and improve circulation for better endurance and more comfort on and off the court. Try Bauerfeind products risk-free with our 60-day money-back guarantee.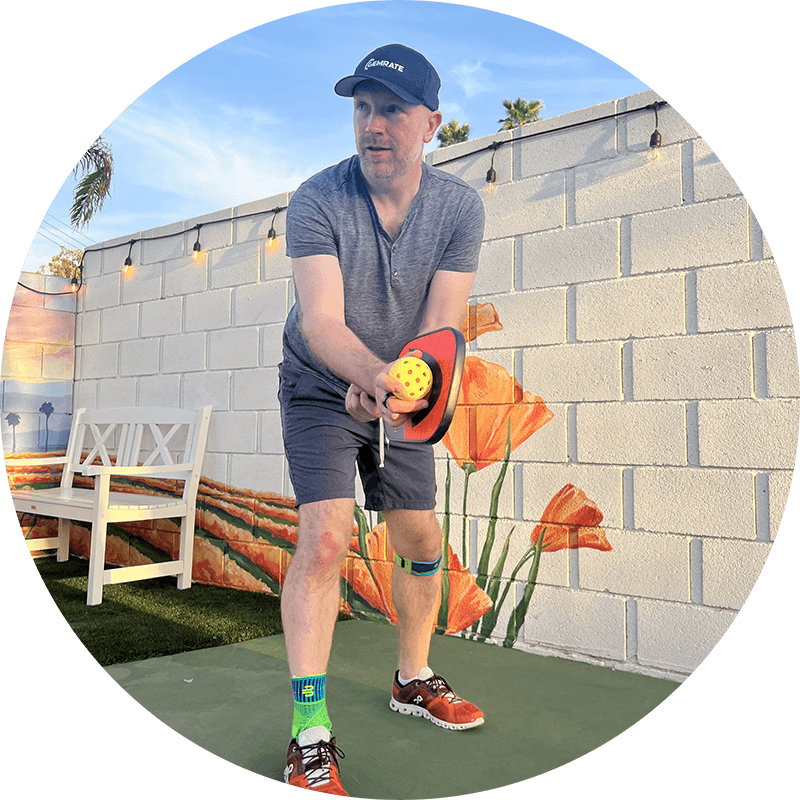 "At 64 years old, I have purchased a multitude of knee braces, the Bauerfeind GenuTrain S knee brace exceeded my expectation in comfort and performance." ⭐️⭐️⭐️⭐️⭐️ by Matt S
"I used the Bauerfeind Sports Ankle Support during a recent pickleball tourney. This support was essential for the quick lateral movements and sudden stops!" - ⭐️⭐️⭐️⭐️⭐️ from Ryan S.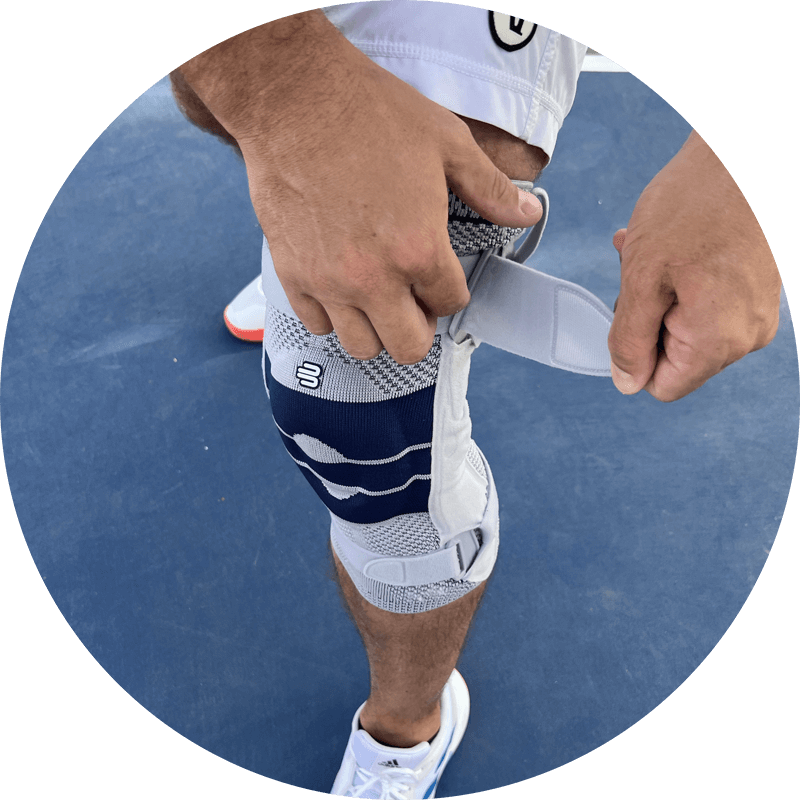 What are common pickleball injuries and how to treat them?
Bauerfeind braces, sleeves and compression socks stabilize your joints, relieve pain and reduce swelling for you to stay in the game.
According to the USA Pickleball and the Sports & Fitness Industry Association (SFIA), more than 8.9 million Americans played pickleball in 2022, making it one of the fastest-growing sports in the country.
Although Pickleball is a relatively low-impact sport, it still requires dynamic lateral movements which can lead to strain or injury. Knee, ankle, elbow and shoulder injuries are especially common.
Pickleball-related injuries include:

Bauerfeind braces, sleeves and compression socks help to stabilize and support your joints, relieve pain, reduce inflammation and swelling for you to stay in the game.
How to prevent pickleball injuries?
Gradually getting used to a new sport and giving your muscles, joints and ligaments enough time to adjust is key to preventing injury. Play according to your fitness level. Consider taking lessons to learn a proper pickleball technique to avoid overuse and extra strain.
Invest in good-fitting court shoes with a sturdy sole and good grip
Use a paddle with proper grip size and weight for your level to avoid elbow pain
Incorporate cardio, strength and stretching exercises in your training plan
Listen to your body: know the difference between soreness and pain
Wear a brace, such as the Sports Knee Support, in case of joint instability to increase proprioception and help prevent injury
Take time to recover
Should I wear a knee brace when playing pickleball?
If you've experienced a knee injury in the past, have pain or feel your knee needs extra support, wearing a knee brace relieves pain, makes playing pickleball more comfortable and your knee feel more stable.
Compression found in Bauerfeind's Knee Brace Line provides stability and massages the area around the knee joint to reduce pain and inflammation. If you've never had a knee injury, you may still want to consider a pickleball knee brace like the Bauerfeind GenuTrain to help protect your knee against excessive strain while on the court.
What pickleball equipment should I get?
Pickleball does not require much equipment. All it takes is a paddle, balls and a court. You can find local pickleball courts in public parks, tennis facilities or build your own on an even hard surface with a portable net and chalk lines. If you play often, we recommend using good court shoes and Bauerfeind pickleball braces for extra stability, comfort and injury prevention.
Pickleball Paddles - Paddles vary by core material, surface material, weight and grip size. For a beginner it is important to start with a medium weight and the correct grip size to avoid injury. You can find more information in this pickleball guide.
Pickleball Balls - Pickleballs come in different variations for indoor and outdoor play. Outdoor balls are slightly heavier with thicker plastic. For competitions only USAPA approved balls can be used.
Can I wash my Bauerfeind brace, sleeve or compression socks?
Yes. Washing your braces, sleeves and compression socks regularly helps maintain their shape and last longer.
For products with Velcro straps, fasten them securely at the place provided on the brace. Remove pads when applicable, for example, on the Sports Back Support. Machine-wash your brace, sleeve or socks in cold water using a gentle or delicate cycle. Wash separately using a laundry detergent with no additives (do not use fabric softener or Woolite). Lay flat and let it air-dry. Do not put it in the dryer. Proper washing and drying helps keep the knit's elasticity and original fit.
---
This information is provided for general information purposes and should not be relied on as a substitute for medical advice, evaluation or care from a qualified and licensed health care provider. The information contained here is not to be considered a plan of care of physical therapy.
---